Our Team
At Ecological Solutions, we tailor our services to fit the needs of your project and your business.
Our qualified team is made up of highly skilled ecologists and environmental scientists.
Knowledgeable about freshwater and terrestrial ecosystems, we are experienced at balancing your environmental obligations with the pragmatism to ensure a successful project.
On time, and on budget.
Find out more about our people below.
Richard Montgomerie
Managing Director and Senior Freshwater Scientist
Richard is the managing director of Ecological Solutions and has over 25 years freshwater research and consulting experience. He has managed a diverse range of freshwater environmental projects and has an in-depth knowledge of the freshwater resources, water management issues, stakeholders and regulators throughout New Zealand. Richard has provided strategic freshwater environmental advice and expert representation to many of our largest public and private sector organisations covering a wide range of complex technical issues.
Dr Gary Bramley
Senior Terrestrial Ecologist
Gary is a terrestrial ecologist with more than 20 years experience in ecological surveys, describing and quantifying habitats, significance assessments, ecosystem restoration, assessment of ecological effects and land and ecosystem management. His work has included wildlife and botanical surveys, strategic planning for conservation organisations and tangata whenua rōpū, preparing and implementing monitoring, restoration and management plans and species reintroductions. He has worked throughout New Zealand in a variety of wetland, braided river, shrubland, forest and coastal sites. He has also developed biodiversity offsets.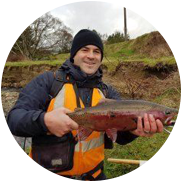 Nick Carter
Senior Freshwater Scientist
Nick has over 20 years of experience as a freshwater ecologist having worked previously for Kingett Mitchell Ltd and Golder Associates. Nick focuses on assessment of effects, consenting and compliance monitoring and has worked on numerous small and large projects throughout New Zealand and overseas.
Rebecca Bodley
Freshwater and Terrestrial Ecologist
Rebecca is a freshwater and terrestrial ecologist specialising in aquatic and terrestrial resource surveys, compliance monitoring, ecological values assessments, riparian planting and restoration plans, and assessments of effects for clients within both the public and private sectors.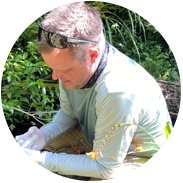 Phil Taylor
Senior Freshwater Ecologist
Phil is a freshwater ecologist with over 16 years experience working on a range of projects in the mining, water utility, and government sectors. Phil focuses on environmental impact assessments and compliance monitoring and has conducted a number of research and development projects using new ecological tools such as Environmental DNA.
Mark Roper
Ecologist
Mark is an experienced ecologist with a demonstrated 13-year history of working globally in scientific research, environmental consulting, and forestry industries. He has extensive experience engaging with industry and regulators to facilitate accurate planning inputs, reduced consent processing times, and development of methods to demonstrate compliance with relevant legislation & best practice. His specialities include project management, ecological impact assessments, biodiversity offsetting, environmental monitoring, stream ecological valuation (SEV), fish passage design & evaluation, acoustic bat surveys, and restoration ecology.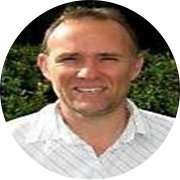 Dr Mike Fitzpatrick
Environmental Chemist
Mike is an environmental chemist with over 25 years experience in chemical analysis, water quality, and the monitoring, modelling and assessment of contaminants in the environment. Mike has also worked extensively on the development of aquatic life criteria and on many aspects of the effects of chemicals on environmental and human health.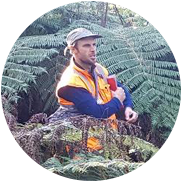 Alistair Humphreys
Terrestrial Ecologist
Alistair is a terrestrial ecologist specialising in botanical, bird and wetland surveys, preparing and implementing planting plans, ecological management plans and effects assessments for clients across New Zealand. Whilst specialising in terrestrial ecology, Al is also involved in the wide range of freshwater ecology work undertaken by Ecological Solutions including stream habitat, periphyton, benthic invertebrate and fish surveys and reporting.
Simon Stent
Freshwater Ecologist
Simon is part of the team working on a range of projects from compliance monitoring to ecological effects assessments. He has recently been involved in a catchment study of the Motu River, monitoring the effects of a WWTP discharge on a Waikato stream and assessing the effects of a water supply take in New Plymouth.
Susan McKegg
Freshwater Ecologist
Susan is an ecologist with experience monitoring and assessing the effects of a range of activities in freshwater environments. Susan carries out habitat and Stream Ecological Valuation (SEV) surveys, benthic invertebrate and fish surveys, fish relocations, data analysis, ecological values and effects assessments.
Michaela Lambert
Ecologist
Michaela is a recent graduate from Waikato University and has a keen interest in invertebrates. She works across both terrestrial and freshwater teams carrying out resource surveys, ecological values assessments, wetland surveys, fish relocations, ecological management plans (EMPs) and bird, bat and lizard management plans.
Raewyn Tanner
Admin Manager
Raewyn recently joined Ecological Solutions as our administration manager after a period as an independent contractor. Raewyn brings a wealth of experience having provided admin support to a range of businesses. Her role is to support our project managers to provide the best possible service to our clients.